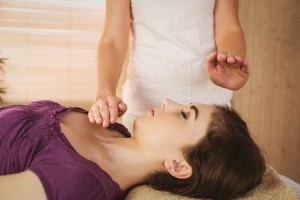 Bio-Energy Therapy works with the energy system in the body to balance the energy flow and move you from a state of distress or disease to optimal ease and health.
Bio-Energy Therapy refers to the energy flow in and around the body through energetic centers, channels, and fields. Living creatures are meant to be in balance for optimal health. Frequently, the energetic system is impacted negatively by the environment as well as the body's internal influences.
Bio-energy techniques are non-invasive and apply the knowledge of the body's relationship to various forms of energy such as magnetic, electric, electromagnetic, light and sound. By assessing where the energy flow is out of balance and using bio-energy techniques to modulate the energy frequency, the client is treated at all levels—physically, emotionally, mentally, and spiritually—toward achieving optimal health. Clients generally find Energy Medicine very gentle, comforting, non-threatening and beneficial at all ages.
BENEFITS OF BIO-ENERGY THERAPY
Pain Relief
Increased Relaxation
Wound Healing
Energizes the Bio-Energy Field

Reduces Side Effect of Chemotherapy
Decreases Anxiety
Assists Clients to Move Through Life Transitions
Support for the Dying Process
Debbie has successfully blended her 33+ years plus experience as an occupational therapist with her training in multiple types of bio-energy techniques to provide more individualized treatments resulting in a happier, calmer, and more enjoyable lifestyle for her clients.
Techniques we use include:
Healing Touch
Esoteric Healing
Reiki
Integrated Energy Techniques

Quantum Energy Techniques
Medical Intuition
Energetic Space Clearing of properties and buildings
Examples of Conditions Treated with Energy medicine:
Neurological & Cerebrovascular diseases
Parkinson's
Multiple Sclerosis
Cardiac conditions
Orthopedic conditions
Auto-Immune diseases

Anxiety
Depression
Chronic Fatigue / Fibromyalgia
Cancer
ADD/ADHD
Autism
Sessions
60 Minutes: $90
Testimonial
Debbie and I have been friends for many, many moons. We have been through a lot together. She has come out of her own kindness and time do provide bio-energy and aromatherapy treatments. She uses her hands and oils to do whatever Spirit tells her to do for my benefit and she does this with great results. That is my Truth.
Rev. Rosemarie Moyer, founder of Blooming Rose School of Metaphysics and Healing Arts, Quakertown, PA.